So there I was earlier tonight… Trying to review my credit reports like I do about this time each year. A visit to annualcreditreport.com and I was on my way… until I got to Equifax's site.
I'd managed to forget my login information to Equifax's site, so I used the "forgot username/password" link and was presented with a form to enter my last name, social security number, and date of birth so that they could present my challenge question to reset my password.
Imagine my surprise when I got this (click the picture for a full-size version):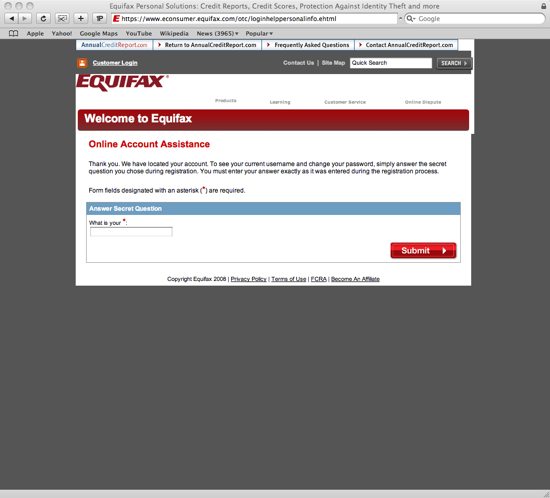 So, what is my what? I'm not really sure what to type in here. What is my red star?
Equifax has also disallowed me from setting up a new account, since I already have an account tied to my social security number. So, here I have an interesting paradox. I cant login to the account because I dont know the secret word, but I cant create a new account, because I already have an account that I cant log in to.
Epic FAIL.